Posts tagged "Yellow Pages"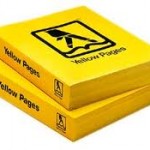 The worst kept secret from Telstra is out in the open as the Telco confirm 648 sensis job losses in it's Sydney, Melbourne and other cities.  The cuts will include 312 staff from Melbourne and 248 from Sydney, with the remaining 38 spread across Adelaide, Perth, Brisbane and Hobart.
The managing director of Telstra's Sensis directories business, John Allan, told reporters "the vendors that we are considering provide services for customers that go beyond our service today, such as 24/7 operations and unique technologies that assist in processing efficiencies, which they do for many directory businesses around the world".
In one of my report about a year ago, if white and yellow pages paper print should be banned? with a couple of responses. You don't have to be a rocket scientist to figure out that paper prints was on their last leg with online business directory becoming ubiquitous and above all, most are now FREE.
However, the managing director claims "Until now we have been operating with an outdated print-based model – this is no longer sustainable for us," Mr Allan said. "Our future is online and mobile where the vast majority of search and directory business takes place." And Allan said that 60 percent of Sensis' customers already advertise online or through the company's mobile app.
The Prime Minister, Julia Gillard, described Telstra's decision as "really dreadful news particularly for the staff members". "It's always incredibly tough when someone loses a job," Ms Gillard told the Adelaide radio station 5AA.
Sensis' managing director John Allan said the proposal is currently in consultation with unions and staff, and would see Sensis create 50 new roles for a Customer Management Centre, but would result in a cut of 648 of the 3,500 employees within Sensis. The union condemned the company's actions. "Telstra has done well out of Australia, its profits have risen off the back of hard-working staff and loyal customers and this is how it repays them – by sending almost 400 jobs offshore," the union's national secretary, Nadine Flood, said.
"And to add insult to injury, we have been told that one of the reasons why they are doing so is because Australian consumers can get better customer service in the Philippines or India." She added. So what is your opinion on this massive Telstra move?
Categories: E_Commerce Tags: advertise, directory, hundred, jobs, john allan, Morne, phone book, redundancies, sensis, Sensis business arm, telstra, Yellow Pages