Archive for July, 2011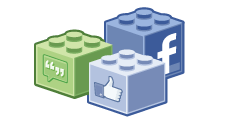 Learn how to grow your business with Facebook powerful marketing tools. This involve a step by step run down on how to build a presence on Facebook using pages, ads, sponsored stories and Facebook platform. Statistics shows that an average Facebook page fan had about 70 people on their friends list.
Businesses can take advantage of this by firstly setting up a page this means an eye catching business name or logo and write a bit about your business and your contact details. There are information section were you add updates, photos, video and other useful links about your business.
This can be done extensively by visiting your page everyday for updates and add more new information to get the content fresh and entertaining. Also if you are the busy type, you can delegate some of the functions to other members of staff who can also respond to emails and creating conversations. This doesn't have to take a lot of your time. We know time is precious in business, and a smart way of doing this is to nominate some staff members to spend about an hour a day to do the routine updates and responds to associates request.
As long as the staff member knows time is an essential commodity. This is because as the saying goes if you give them (staff) they take a mile. some might decide to be doing their personal stuff. As long as they know that what they are doing is basically representing the company.
Businesses can also take advantage of the sponsored stories by putting like buttons on your business websites. A good example of this can be seen in Australianbizdirectory.com.au and each time a cool story is written about your business, maybe a recent press release you can determine how many people like the story. And this can enable you to have an informed knowledge of the type of people that like what your business is all about. And you can use these information to your advantage. For example if you operate a cafe, you are most likely to get associates that like your cafe and the same applies to people in the car racing industries.
And you can also subscribe for the ads, depending on your business budget. This can help increase your sales and bottom line because the ads can be Geo-targeted depending on your settings. For example if you operate a community restaurants in Sydney city of Parramatta, you would expect your ads to be targeted to the local community and not someone in Melbourne. And conversely, you don't expect a local cafe owner in New York to be expecting customers from Houston. Google ads are Geo-targeted.  You can alternatively subscribe to cheap Local Directory.
Finally, remember Facebook is a community network forum and be prepared to engage and be engaged. Try to encourage fan base to participate by putting up new activities maybe weekly and also take advantage of the apps were you can check for statistics of your page and find out were improvement, adjustments and changes can be made.